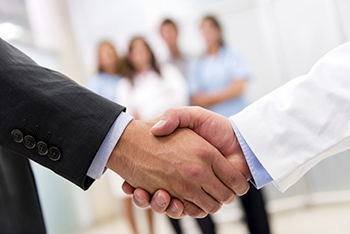 The pace of change occurring in the healthcare industry is forcing healthcare professionals and organizations to examine the way they deliver their services and search for more efficient ways to treat patients. For many healthcare providers, acquisitions, consolidation, mergers, strategic alliance, and, in some cases, timely divestiture, have been viewed as key to survival in this era of healthcare reform.
Health Capital Consultants (HCC) specific knowledge and understanding of the specific value drivers and risk factors in the transaction marketplace for healthcare providers and entities, provides our clients with a level of confidence unsurpassed in the consulting field.  As certified, professional business intermediaries, HCC combines a depth of experience as negotiators and intermediaries with the knowledge of required legal and regulatory issues and adherence to a time tested process to assist our clients, as well as their legal and accounting professional advisors, in planning and implementing a successful transition by:
Conducting research and a feasibility analysis specific to your market circumstances to make certain our clients will not be "All dressed up with nowhere to go!"

Presenting available options, and then facilitating a consensus decisions as to future direction;

Assisting, if needed, in the identification and qualification of potential prospects/targets;

Management of a comprehensive due diligence process;

Analysis of post-transaction synergies and evaluation of projections;

Assessing external strategies including outright ownership, partnership, leasing or collaborative joint venture arrangements to allow our clients to take advantage of synergistic affiliations, with consideration to the impact on their autonomy; 

Assisting in positioning our client's organization for future acquisition, merger, consolidation, integrated provider relationships, or divestiture; 

Assisting in the negotiation and implementation phases of our client's project; and,

Providing consistent project management, and efficient and effective communication with the client, to aggressively move projects forward.
HCC's comprehensive assessment of the potential opportunity does not lend itself to "ad hoc" conclusions.  It requires discipline and thoroughness.  HCC employs a tested process that we have used successfully with clients.  This process will be fine-tuned and modified to address your particular needs as we learn and understand them.  In the end, we understand that "our product is our process."