Accountable Care Organizations: Value Metrics and Capital Formation
There is a growing imperative for implementing models of health care delivery in the U.S., which maximize beneficial outcomes per dollar of expenditure through managed competition – and ACOs are one of the latest innovations to address that growing challenge by means of technological and procedural advances.  The March 23, 2010, passage of the Patient Protection and Affordable Care Act (ACA), which established the Medicare Shared Savings Program (MSSP), continues to drive the ongoing evolution of  Accountable Care Organizations (ACO) from their early inceptions, e.g., the Medicare Healthcare Quality Demonstration (2003), the Medicare Physician Group Practice Demonstration (2005), and similar models adapted by provider organizations such as Kaiser Permanente and Healthcare Partners Medical Group, to their final development and implementation. The promise of lower healthcare costs and higher quality of care has precipitated a national fascination with ACOs throughout every level of the healthcare industry, from government agencies, academic research institutes, and large provider delivery systems, to individual physicians.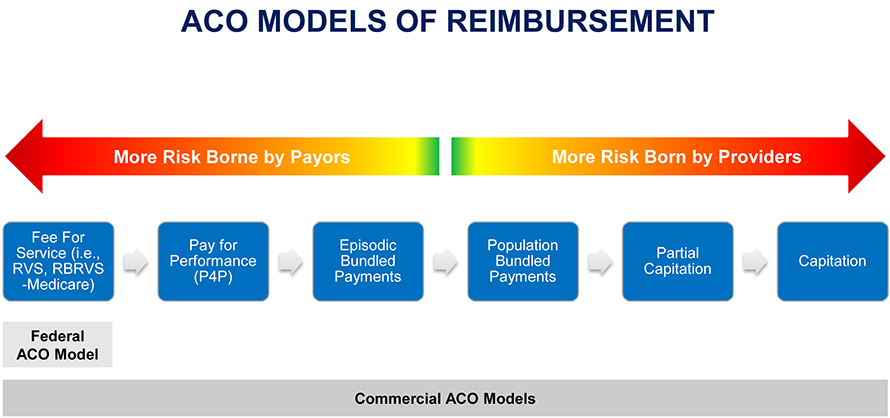 Services Offered
Episodic healthcare consulting services, are those services provided on a discrete engagement basis, wherein each episodic project will have separate deliverables and timetables, and often a different engagement agreement detailing the terms of each.  Episodic consulting services that are particularly important for the development, implementation and operation of an ACO, include:
Capital formation advisory services;

Feasibility analysis, including forecasting the predicted return on investment and the likelihood that the probable margins of the operation of the ACO will offset initial capital requirements for its development;

Value Metrics analysis for each potential ACO;

Transaction planning and intermediary services to assist with mergers and acquisitions, transfer, lease, or otherwise contracting for, ACO participants, an provider/supplier, or an ACO Professional in the formation and structuring of an ACO;

Valuation (financial appraisal) of specific enterprises, assets, and services involved in the transactions in the formation and structuring of an ACO;

Legal services for the development of organizational and governance structure and preparation of documents for memorializing the deal;

Consulting assistance with provider credentialing, accreditation, certification and licensure, including tracking and determination of primary care provider status and beneficiary assignment; 

Consulting assistance with the calculation, allocation and documentation of ACO shared savings for their distribution across providers;

Turnaround/management restructuring services; 

Strategic planning services, i.e., marketing, feasibility and service line analysis; and, 

Litigation support services.
Continuity Consulting Services are typically provided on an ongoing basis, there are several types of continuity services, including:
Financial statement preparation services;

Assistance with revenue cycle: coding; billing; and claims resolution process;

Cost management: supply side and cost center analysis and performance improvement services; 

Information systems/information technology project implementation or hardware or software upgrades; 

Operational management services for both the coordination and maintenance of the informatics requisite for quality and cost reporting metrics in documenting an ACO's achievement of required benchmarks and achievement of targets for shared saving payments;

Corporate compliance and risk management audit services for monitoring a wide variety of legal and regulatory issues on a consistent basis - important for ACOs as with most other healthcare provider organizations;

Financial audit and attestation services - important for ACOs as with most other healthcare provider organizations, these annual audits review the financial condition and solvency status, as well as the historical performance of the ACO, identifying and commenting on items such as financial profitability, as well as operational efficiencies of revenue cycle elements - coding, billing, and claims resolution process; and,

Tax filing services – for federal, state and local taxes, including provider taxes in certain markets.